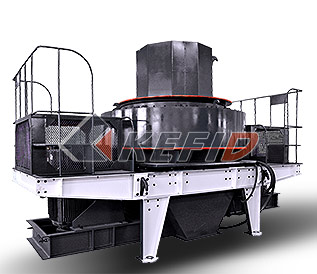 B Series VSI Crusher
B series VSI crusher is the first choice for artificial sand making and stone sharping. Its high performance and low costs make it stand out from traditional sand making machine. B series VSI crusher is specially used to provide excellent aggregate material to highway, railway, building, city construction and hydropower industry.
To get more information about spare parts, please click here or leave your email address , our sales manager will contact you in 24 hours!
guard liner plate

Material: ZGMn13Cr2

Function: Counterattack plate is installed on the inner side of the frame. When the material is thrown out from the rotor, the material will be impact by the counterattack plate for crushing. The frame of the equipment will be guarded because of the counterattack plate.
Exchange method of rotor and its easy-wear parts

1. clean the top part, please set up a windshield in windy season.
2. Loosen the cover fixing bolts (see Figure 11-1) Lift the hopper by manual hydraulic jack, rotate the hopper so it cannot move freely.
3. clean dust from the distribution plate, loosen the bolts and lift the distribution plate from the frame.
4. loosen the fixing bolts of rotor, remove the distribution cone, lift the rotor out of the body slowly, so as not to damage the main shaft.
5. easy wearing parts include: upper and lower stone flowing plate, wearing plate, impact plate, and hammer. Exchange method: Remove the bolt, rubber gasket and nut, exchange the wearing parts with new parts, then replace the bolts, rubber gasket and nuts. Please note that, when exchange the easy-wearing parts, keep the rotor balancing on each direction, otherwise causes vibration of machine.
6. when disassemble the rotor, please pay attention to the O sealing ring between the rotor hub and main shaft, which cannot be lost.

the replace of the upper and lower guarding plate

1. Clear away the lining material in the crushing chamber.
2. Removing the bolt and change the upper and lower guarding plate.
3. Please note not damaging the main shaft.
Hydraulic jack, inlet hopper, distributing plate, bolt fasten the distributing plate, rotor, surrounding guarding plate, fasten plate for the surrounding guarding plate, hang out from the upper side, upper and lower guarding plate.

replace of the impact plate

1. Remove the bolt.
2. Take out the impact plate, and replace the new one.
3. Fasten the bolt.