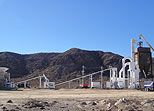 Blast furnace injection coal equipment
According to lots of research and tests, kefid used alkaline air technology in the process of mill, thus make the system safer, also can protect the coal to explode. Kefid manufactured vertical mill specially for blast furnace injection coal (such as Anthracite, bituminous coal, lignite).The final size can be adjusted and it get a lot of inquire from Steel factories with its stable performance , lower energy consumption , higher capacity , good explosion-proof performance .
Kefid has exported more than 100 sets of mineral processing plant to many countries, including Australia, Papua New Guinea, Indonesia, Mongolia, Malaysia, Russia, Uzbekistan, Oman, Egypt, Kenya, Saudi Arabic, Algeria, Bolivia, Mexico, Colombia, Peru, Chile, El Salvador, Ecuador, Paraguay, Venezuela, and so on. Contact us to check whether we have working site in your country. More information or questions, you can email us to sales@kefid.com Thank you.
Related Products