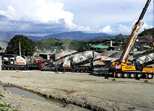 Gold Ore Beneficiation Plant
The worth of mining gold is known as source of economics and economic value in the jewelry industry as well as in high level electronics and highly profitable. Gold ore beneficiation is a processing to get gold out of ores
At the gold ore beneficiation plant, gold should be extracted from the ore. The processing plant alternates between treating ore from the mine open pit and from the underground mine. Kefid Machinery is one of world leading suppliers of complete gold ore beneficiation plant.
Ball mill is necessary comminution equipment for gold ore powdering.
Gold ore Processing:
1. Comminution is the breaking up of ore to make gold available for treatment. Crushing and grinding is the first step to process gold ore down to a smaller size so that the gold can be melted evenly.
2. Gold ores are typically classified into:
refractory ores, where the gold is locked within a sulphide mineral and not readily available for recovery by the cyanidation process; or
free milling, where the gold is readily available for recovery by the cyanidation process.
3. Refractory ore treatment – after fine grinding, the sulphide materials are floated away from the barren gangue material to produce a high-grade sulphide concentrate.
4. Free milling and oxidised refractory ores are processed for gold recovery by agitator leaching the ore in an alkaline cyanide leach solution followed generally by adsorption of the gold cyanide complex onto activated carbon-in-pulp (CIP).
5. The alternative process is the heap-leach process.
Jaw Crusher+Cone Crusher+Ball Mill+Magnetic Separator+Flotation Machine+Ore Washing Machine
Kefid supplies a wide crushing, screening and grinding solution for mineral ore processing and metal ore processing, including limestone, gypsum, coal barite, calcite, copper ore, sliver ore, manganese ore and more ore materials. More information or questions, you can email us to sales@kefid.com Thank you.
Related Products