Fine crushing stage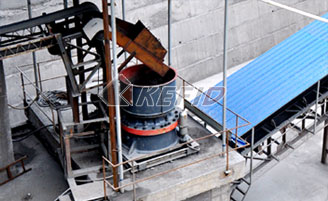 Cone crusher technology is mature and advanced, used in metal mining, construction sand and gravel processing, mainly for Mohs hardness 3-16 mineral crushing, strong crushing capacity, uniform size, suitable for the next grinding operations. Kefid researches and manufactures series of cone crushers, such as, HST single cylinder cone crusher, HPT multi-cylinder cone crusher, CS cone crusher, spring cone crusher and PY cone crusher. Different grades of metal ores always have a big difference in hardness, for metal ore crushing the recommended crushing plant equipments are primary crushing jaw crusher and secondary crushing cone crusher, this kind of production line is stable, strong crushing capacity and high yield.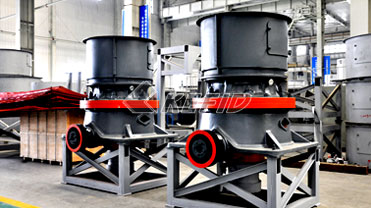 1. HST cone crusherHST cone crusher is for Mohs hardness 5~16 rocks secondary crushing, such as iron ore, copper ore, gold ore, manganese ore, nonferrous ore, granite, limestone, quartzite, sandstone, pebbles and so on. Adopted German crushing technology and combined with the international available metal material performance, it is of large capacity and stable performance, laminated crushing principle guaranteed uniform cubes particles, unique optimize structure, low failure rate, high crushing frequency and high crushing cavity, using the best combination of crushing frequency and eccentricity, double insurance controlled hydraulic and lubrication system.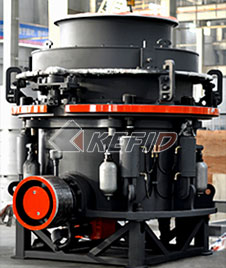 2. HPT cone crusherHPT cone crusher is for secondary and tertiary crushing, based on the world advanced crushing technology and 30 years of successful experience in cone crusher, HPT cone crusher is the combination design of crushing speed, stroke and perfect crushing chamber. It's of high efficiency and crushing ratio, laminated crushing principle, less spare part consumption, various crushing cavity, low operation cost, thin oil lubrication, hydraulic protection and hydraulic cavity clearing, high automatization and less machinery halting and repairing time.
Its application range is from limestone to iron ore, gold ore, copper ore, from stone production to various ore crushing, efficient completion of a variety of medium crushing, fine crushing and super fine crushing. It is today's mining industry latest generation product, replacing spring cone crusher and general hydraulic cone crusher, HPT cone crusher is an ideal equipment for large beneficiation plant and mining crushing plant.