Kefid screen can separate the stuff of different size range. It is the most general means of size control in aggregates processing. Washing machine is a kind of cleaning equipment of international advanced level for sand and slag pellets, it is developed on the basis of introducing foreign outstanding technology of the same kind of products.
Contact us online now to find the nearest Screening & Washing Working site in your country, or Email us sales@kefid.com .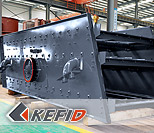 Our company provides a great capability in the design and manufacture of vibrating screens for a wide range of duties. Vibrating screen is usually used to separate materials into various sizes for further processing. ...
Kefid screw sand washing machine is mainly used for sand processing, electric pole factory, building work site and concrete dam, various sands classifying and dewatering....
Our company offers high cleaning performance sand washing machine are used to clean and separate the dust and impurity from the sand and improves the sand quality. Sand washing machine is a necessary equipment matched with sand making machine. ...
Contact Us (Zhengzhou)

: 0086-371-67988500
0086-371-67999255
0086-371-86537170

: 0086-371-67998980

: sales@kefid.com

: kefidmachinery@
hotmail.com

: kefidmachinery@
yahoo.com

: kefidcrusher
Contact Us (Shanghai)
: 0086-21-50458962
: sales@kefidchina.com