Kefid HPT800 cone crusher is successfully in commissioning
Recently, HPT800 multi-cylinder hydraulic cone crusher is sucessfully in one-time commissioning. The cone crusher is the upgrade of HPT series of multi-cylinder hydraulic cone crusher and is the largest multi-cylinder hydraulic cone crusher.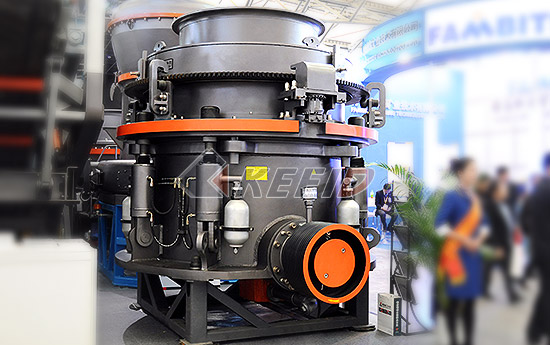 The successful test machine HPT800's total weight is 90 tons. Installed power is 630kw and the maximum capacity is up to 1,200 tons per hour.It is the best partner of iron ore, granite, basalt, river pebbles and other hard rock production line.
It has the following advantages:
· It uses advanced spindle fixed, eccentric sleeve around the spindle rotation structure which can withstand greater crushing power. Reasonable eccentricity, cavity type and motion parameters can greatly improve the capacity and efficiency;
· It uses layer compression crushing principle design so that crushing occurs between the material and materials.It has high crushing efficiency, excellent grain type and is the excellent partner of producing high quality aggregate;
· Electric adopts Siemens PLC and touch screen control system, ABB low voltage control element, Siemens high voltage motor, double-lubricating oil pump, double electric heater, double air cooler and achieve automatic intelligent control;
· Control system function continues to enhance. It uses visual sensor values, visualization can be freely configured alarm program, more flexible Internet monitoring and control docking program;
· Convenient operation and maintenance, adding lubrication and oil flow monitoring, horizontal axis speed monitoring, vibration monitoring, automatic feeding control and other advanced automation functions to extend the service life of the system to make the system more stable and more intelligent.