Contact us online now to find the nearest Aggregate Production Line Working site in your country, or Email us sales@kefid.com .
Stone crushing production line is mainly to process stones which are used in construction, road, railway. Different industries have different requirements of the size, shape of the stones and designed plan of stone production line is needed....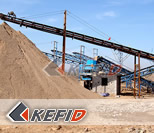 The full set sand production line will offer you with comprehensive technological support, the general capacity is 50-500t/h, the production line is generally composed of vibrating feeder, jaw crusher, sand making machine, vibration screen......
Contact Us (Zhengzhou)

: 0086-371-67988500
0086-371-67999255
0086-371-86537170

: 0086-371-67998980

: sales@kefid.com

: kefidmachinery@
hotmail.com
: kefidcrusher
Contact Us (Shanghai)
: 0086-21-50458962
: sales@kefidchina.com