Feeders are necessary whenever we want to deliver a uniform flow of dry or moist fractions of rock and minerals. Mass flow by conveying is by far the dominating method when transporting material in a minerals processing operation. Kefid offer you the most suitable solutions.
Contact us online now to find the nearest Feeding & Conveying Working site in your country, or Email us sales@kefid.com .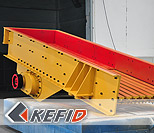 We can supply wide ranging vibrating feeders, capacities ranging from120 tonne/hr to 600 tonne/hr. Vibrating feeder is used for transferring bulk materials from hoppers or driers, grinders, crushers, millers or screens in chemical, mining, foundry......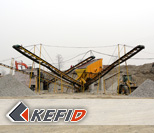 Belt conveyor is a kind of machine that to transfer the material continuously. The belt works under the effect of frictional force. It is not only the components to transfer the material, but also the components to transfer the force....
Contact Us (Zhengzhou)

: 0086-371-67988500
0086-371-67999255
0086-371-86537170

: 0086-371-67998980

: sales@kefid.com

: kefidmachinery@
hotmail.com

: kefidmachinery@
yahoo.com
: kefidcrusher
Contact Us (Shanghai)
: 0086-21-50458962
: sales@kefidchina.com