We have been a leading manufactuer of jaw crushers and JC series jaw crushers for over 20 years, Jaw Crusher and JC Jaw Crusher can be used to crush various mineral stones and bulk materials to medium size.
Contact us online now to find the nearest Jaw Crusher Working site in your country, or Email us sales@kefid.com .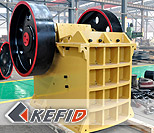 Jaw crusher from Kefid is a fruit of 20 years development, Jaw crusher can guarantee increased uptime thanks to operator friendly design, uniform welded construction and casting steels from Baogang - most famous brand in China....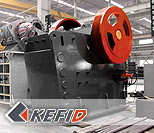 JC series jaw crusher from Kefid is the upgraded product of jaw crusher with higher capacity and reduction thanks to its V feed opening design and small weight and volume to enable convenience in transportation and international shipment....
Contact Us (Zhengzhou)

: 0086-371-67988500
0086-371-67999255
0086-371-86537170

: 0086-371-67998980

: sales@kefid.com

: kefidmachinery@
hotmail.com

: kefidmachinery@
yahoo.com
: kefidcrusher
Contact Us (Shanghai)
: 0086-21-50458962
: sales@kefidchina.com