SPARE PARTS
Stationary Crushers
Grinding Mill
Washing & Screening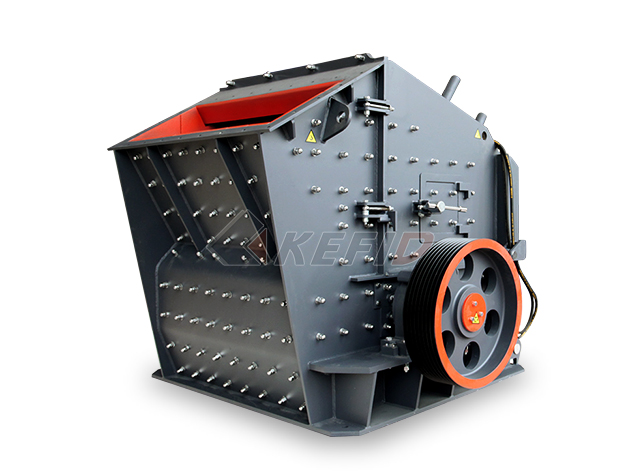 European Tech. Impact Crusher
European Tech. Impact Crusher is the new generation of impact crusher produced by Kefid, which boasts cubic-shaped end products. Products processed by Kefid's PFS are crack-free and with great shape. With high efficiency, easy operation and maintenance, and safety performance, the well-structured European Tech. Impact Crusher is widely used.
The rotor is welded by quality steel plates, on which the blow bars are fixed in the correct places. The correct places of the blow bars can effectively avoid bouncing around of them.

The blow bar is made of high abrasion resistant material. And the whole rotor assembly boasts outstanding static and dynamic equilibrium and excellent resistance to impact.

Consisted by the under frame and the rear top, the main frame which is a box-shaped substantial welding fastened by high strength bolts. In order to change the wear parts safely and easily, the rear top could be opened and closed by hydraulic or mechanical force.

It is advisable for customers to install the lifting devices above the crushers for easy and quick examination or change of the parts

There are two set of screw-rod or hydraulic rod on upper sides of the impact crusher to lift the top easily and steadily for overhaul and maintenance.

At the same time, there are also hydraulic devices on two sides of the main frame to lift the rear upper top for easy overhaul and maintenance.
CHANGE THE SPARE PARTS:
Before replacement of the wear parts, open the rear top first by the eject rod or hydraulic cylinder. To open the rear top as large as the one demonstrated in figure 4, remove the connecting screws of the main frame first, and then operate through handles on the top lifting devices by two persons at the same time. After replacing the wear parts, repeat the above mentioned procedures to close the rear top.