SOLUTION
Aggregate Crushing plant

Hard Stone Crushing Plant
Different capacity crushing plant

Artificial sand making plant
Grinding plant
Ore beneficiation plant
200TPH Stone Crushing Production Line
Processing Material: Granite/Limestone/Basalt
Production Capacity: 200 t/h or more
Feed Size: less than 120 mm
Output Material Size: less than 70mm.
Production Line Configuration:
PFS1214 Impact Crusher, 3YZS2460 vibrating screen, 3YZS2160 vibrating screen, HPC220 hydraulic Cone Crusher.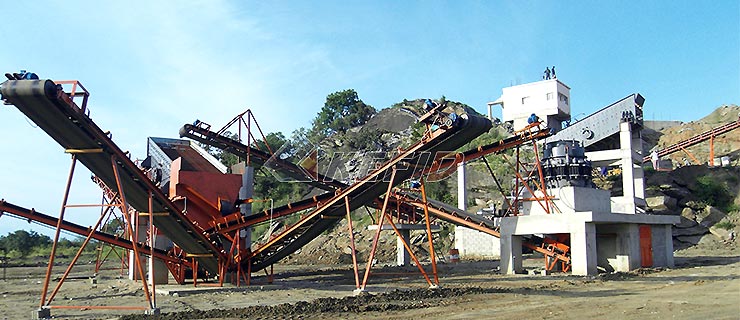 Stone first sent evenly into PFS1214 Impact crusher for coarse crushing operations, and then sent into the HPC220 hydraulic cone crusher for secondary crushing, finally, through the vibrating screens' screening, the finished material product grading transferred by belt conveyors to the finished product area.
Warm Prompt: If you want stones or other small particles, you can depending on the desired size of gravel layers vibrating screen configuration, if you need two kinds of finished stone, that a two-tier vibrating screen configuration can satisfy you. If you want for sand making, there is a need for further ultra-fine-grained crushed by the sand making crusher machine, you can get 0-5mm sand. This is the entire granite crusher sand making production line process.
Service:
KEFID insists on providing clients with overall solutions from equipment recommendation to debugging and installation, worker training, technical support and maintenance.
Learn More>>
FAQ:
1. How about price?
We are factory and be able to give you the lowest price than market one, and we have a policy that "for saving time and absolutely honest business attitude, we quote as low as possible for any customer, and discount can be given according to quantity".
2. When do I get feedback?
Our Manager will send you the details you need in 24 hours by email.
3. I want to go into quarry business, but I don't know the type of machine I will be needing, can u help me?
Don't worry. We have expert engineers and they give you advice to start business.

Realated Machine: Cone Crusher, Impact Crusher