SOLUTION
Aggregate Crushing plant

Hard Stone Crushing Plant
Different capacity crushing plant

Artificial sand making plant
Grinding plant
Ore beneficiation plant
River Stone Crusher
Material: river stone
Output Size: 0-5
Feed Size : 600 CAPACITY (TPH) : 100-150
Equipment: GZD960*3800、PE600*900、CSB160/C、RCYD-8、GZG100-4、5X1145、4YZS1860、4YZS2160、XSD-2816、XSD3016、belt conveyor
Application Place: Algeria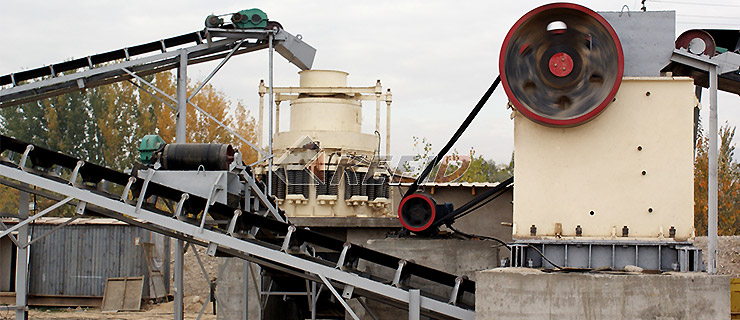 One of our customers in Ecuador, his river stone is most below 120mm, but little parts are about 300mm.
For reducing the invest cost for him, we didn't install the big primary jaw crusher, because the big size only engages little part, mostly is about 50-120mm, which can be fed into the cone crusher directly. We install a set of two layer vibrating screen 2YZS1237 before the cone crusher, to screen out the little part of big river stone, and then the ones below 120mm are screened out and transported to the hopper, and under the hopper, a small vibrating feeder GZG100-4 is needed for feeding stones into the cone crusher CSB75 continuously. Then crushed by the cone crusher.
Product Feature:
High crushing ratio, high output, even granule, simple structure
1. Energy-Saving about 20%~35%.
2. Easy Maintenance.
3. Stable performance.
4. Low producing cost.
Shipping:
1. Small parts are wooden box package
2. the major machine nude packing, container, or upon customers' requirement
3. Export standard
4. Delivery Time: 30 days for batch goods.
Please fill in your need products and your message and do not forget your email so that we can send detail to you.
We are looking forward to your inquiries!