SOLUTION
Aggregate Crushing plant

Hard Stone Crushing Plant
Different capacity crushing plant

Artificial sand making plant
Grinding plant
Ore beneficiation plant
Mining/Quarry Crusher
Mining crusher machinery can break down very hard material, such as stone and ores, into small rocks, gravel, or stone powder. Mining crusher machines are used to reduce raw material, such as mined ore, which are extremely hard to break down.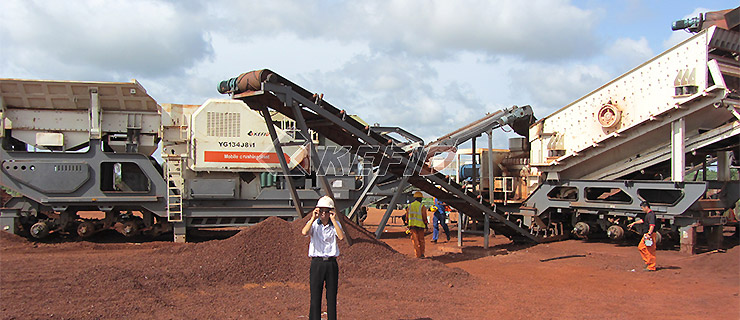 PRIMARY CRUSHERS
Jaw and Gyratory crushers are two most important types of primary crushers but sometimes impact crushers are also used if the stone or ore is soft.
SECONDARY AND TERTIARY CRUSHERS
We recommend Cone Crusher for hard stones and Impact Crusher for soft stones.
You can also select Mobile Crushers, which easy to move from one work site to another.
CONSULTANTS
Our engineers will provide free consultants regarding the sizing and selection of the crushers and solutions for your project. If you want to start mining/quarry business, please feel free to contact us.
SELECTION OF CRUSHERS:
The principal design parameters that drive crushing plant selection and configuration include:
• Production Requirements
• Stone/Mineral/Ore Characteristics
• Project Location
• Operational Considerations
• Climatic Conditions
• Capital Cost
• Safety and Environment Impact
• Maintenance Requirements

OUR PRODUCT FEATURE:
1.High crushing ratio, high output, even granule, simple structure
2. Energy-Saving about 20%~35%. 2. Easy Maintenance
3. Stable performance
4. Low producing cost.

MINING/QUARRY CRUSHER PRICE:
Different types of quarry crusher machines have different prices. The mining crusher plants' prices vary from 2000 USD per set to 1000000 USD per set, the capacity and output size are various as well. Please kindly check the following, we will select a suitable stone crusher machine for you and send you specific quotation and technical data within 24 hours by email.

Realated Machine:Jaw Crusher Impact Crusher