SOLUTION
Aggregate Crushing plant

Hard Stone Crushing Plant
Different capacity crushing plant

Artificial sand making plant
Grinding plant
Ore beneficiation plant
400-500TPH Granite Crushing Production Line
Kefid based on ore conditions and characteristics of granite feature to design beneficiation process for the customer as well as scientific equipment selection. The biggest feature is the use of wear parts relatively long service life (rolling acetabular wall, crushing wall) can reach 6-12 months service life, which saves considerable production costs, and also greatly reduces the amount of repair and maintenance works.
Raw material: granite
Production capacity: 400-500t / h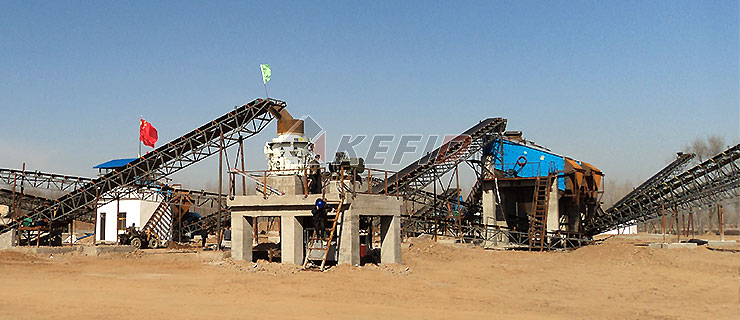 Equipment configuration: PE1200x1500 Jaw Crusher, two sets HPC400 hydraulic cone crusher, GZD1500 × 6000 vibrating feeder, 3 sets YZS2160 vibrating screen, as well as convey belts, electric control equipment.
Limestone first evenly sent into stone jaw crusher by vibrating feeder for primary crushing, and then the materials fed through the vibrating feeder sent to HPC hydraulic cone crusher for the secondary crushing, crushed material through vibrating screen, materials greater than 40mm return to cone crusher crushing, 40mm material from the following belt conveyor into sand making machine for shaping to get the finished product.
Customer feedback: This granite production line taking full account of the hardness of granite, while the output is also not affected, ensuring the mechanical crushing efficiency, reduce costs for us. This is a classic limestone processing production line.
Till now, our products are sold to 130 countries, being the popular equipment in global crushing and grinding industry. With the development of our KEFID, we would like to help more and more customers start their business in mining and construction industries, offer them the best solution, much more advanced machinery and better service.
Your satisfaction is our greatest pursuit, we would like to sincerely for your service! We look forward to your inquiry!
FAQ:
1. How about price?
Yes, we are factory and be able to give you the lowest price than market one, and we have a policy that "for saving time and absolutely honest business attitude, we quote as low as possible for any customer, and discount can be given according to quantity".
2. I want to go into quarry business, but I don't know the type of machine I will be needing, can u help me?
Don't worry. We have expert engineers and they give you advice to start business.
3. When do I get feedback?
Our Manager will send you the details you need in 24 hours by email.

Related Machine: Cone Crusher, Jaw Crusher