NEWS
Company News
Industry News
Exhibition
Faq
The annual output of 1 million tons sand aggregate production line configuration and process flow
Sand aggregate production line configuration is generally composed of conveyor, coarse crushing, fine crushing, screening and other equipments. The commonly used primary crushing equipment is jaw crusher, secondary crushing equipment has cone crusher, impact crusher, sand making machine, etc. The screening machine is vibrating screen, the conveying is vibrating feeder and the intermediate links are connected by belt conveyor.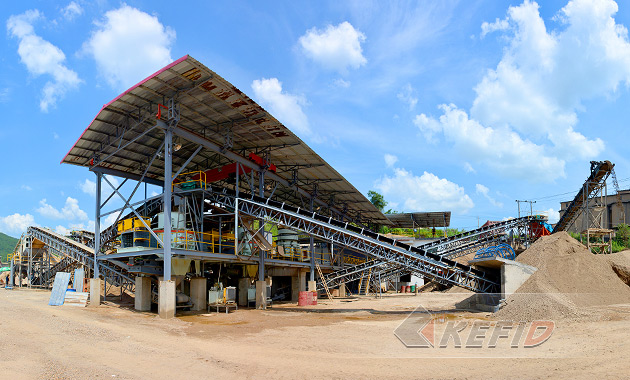 This is the basic configuration of aggregate production line. The specific equipment selection must be determined based on the actual production conditions. For example, raw material hardness, output, inlet and outlet size, site and many other factors should be taken into account.
According to the output, the annual output of 1 million tons of sand aggregate production line is relatively large-scale production project, and the overall configuration is relatively complex. If the raw material size is too large, we should choose jaw crusher for primary crushing, cone crushing and impact crusher for secondary crushing. Among them, cone crusher is suitable for crushing hard rocks such as granite, basalt, and river pebbles, impact crusher is suitable for crushing low hardness rocks such as limestone, bluestone.
If you want to produce mechanical sand, you can add sand making machine after secondary crushing for further fine crushing to produce mechanical sand with the output below 5mm.
The overall process flow is generally in accordance with the processes of vibrating feeder→jaw crusher→cone crusher/impact crusher→sand making machine→vibrating screen→sand washing machine. The whole crushing process forms a closed circuit for sand aggregate production, and the final product size can be achieved according to the customer's requirements.
More Kefid sand aggregate production line details,please contact our 24hour online customer service.