NEWS
Company News
Industry News
Exhibition
Faq
325 mesh calcium carbonate powder production line
Kefid MTW110 series trapezium mill has a processing capacity of 3.5~25t/h, a feed particle size of 30~40 mm, a finished product size of 1.6-0.045 mm, a fineness of 0.038 mm, and a fineness of about 0-425 mesh/ 200-33 microns, mainly used for processing limestone, calcite, dolomite, barite, talc, calcium carbonate, gypsum, bentonite and other materials.
Calcium carbonate dry production process is:
Calcium carbonate raw materials are transported from the quarry to the jaw crusher for coarse crushing, and then milled into calcium carbonate limestone powder using the MTW European type grinding mill, and then classified with a classifier, and transported to the finished product area in accordance with the particle size requirements. The unqualified calcium carbonate is returned to the MTW mill and ground again.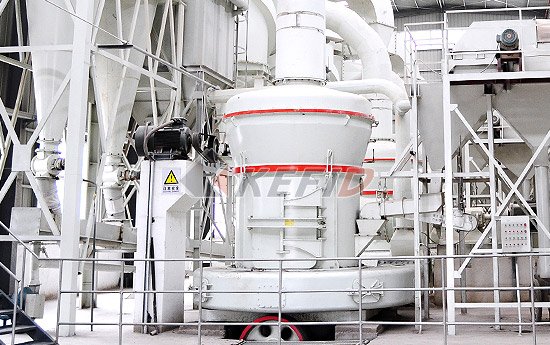 Calcium carbonate can be widely used in the following industries after the deep processing of the mill:
1. Within 200 mesh: It can be used for various feed additives with calcium content above 55.6 and no harmful ingredients.
2. From 250 mesh to 300 mesh: used as the base material and interior and exterior wall painting of plastic factory, rubber factory, paint factory, waterproof material factory. Whiteness is above 85 degrees.
3. 350 mesh to 400 mesh: used to manufacture gussets, falling pipes, chemical industry. Whiteness is above 93 degrees.
Calcium carbonate
MTW European trapezium mill
is the world's most advanced mill, with a number of independent patent rights.It has small footprint, stable performance and easy operation, low energy consumption, adjustable and controllable product size. The main components of the mill are made of excellent steel, so the performance of the machine is reliable and durable.