NEWS
Company News
Industry News
Exhibition
Faq
50-70 tons per hour of gold ore crushing production line
Gold ore beneficiation processing production line equipment includes jaw crusher, ball mill, classifier, magnetic separator, flotation machine, thickener, dryer, etc., together with feeder, crane, belt conveyor can form a full set of gold ore beneficiation production line, through re-election, flotation, concentration and tailings extraction, and then purified by chemical methods, after smelting to form finished products. The production line has the advantages of low energy, large output and good efficiency.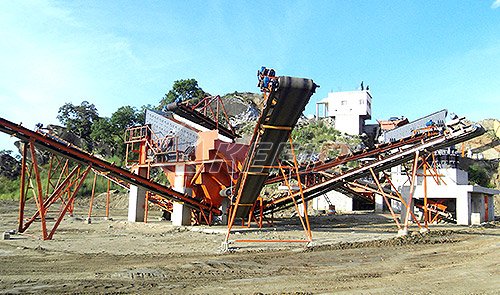 Gold ore crushing and grinding
The gold ore crushing process uses a jaw crusher for coarse crushing, and a standard cone crusher and impact crusher for secondary crushing. The small and medium-sized gold ore beneficiation plants mostly adopt the two-stage one-closed circuit crushing mode, and the large-scale gold mine beneficiation plants use the three-stage closed-circuit crushing process. In order to improve the production capacity of the beneficiation, the potential of the equipment in the crushing process, thereby improving the utilization rate of the mill, the main measure taken is to achieve more crushing and less grinding, in order to minimize the size of the gold ore into the mill.
Example of gold mine production line configuration:
The 50-70TPH gold mine crushing production line in Zambia, the equipment includes GZD960x3800 vibrating feeder, PE500x750 jaw crusher, PF1010 impact crusher, 2YZS1548 vibrating screen and belt conveyor.