NEWS
Company News
Industry News
Exhibition
Faq
HGT hydraulic gyratory crusher
HGT hydraulic gyratory crusher is a coarse crusher developed by Kefid which absorbs the modern crusher design and high-tech technology. It integrates mechanical, hydraulic, electrical, automation and intelligent control. Whether it is fixed or semi-mobile, ground or underground, HGT gyratory crusher is able to complete the crushing task well.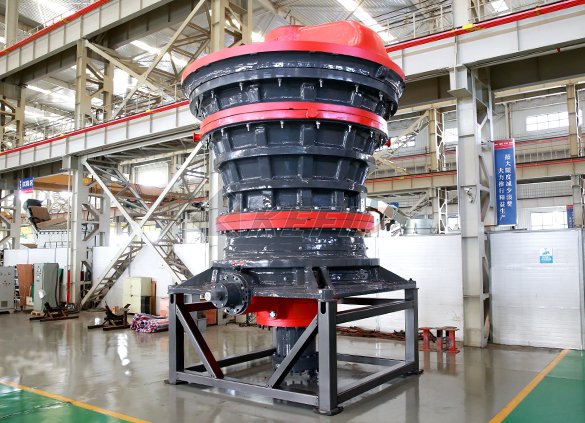 HGT hydraulic rotary crusher
is mainly composed of beam, upper frame, middle frame, lower frame, moving cone, eccentric sleeve, transmission, hydraulic cylinder, and the horizontal shaft is rotated by the motor, and the horizontal shaft is driven by the gear. The eccentric sleeve rotates, and then the eccentric sleeve moves to make a circumferential swing, thereby achieving continuous crushing.
1.New crusher structure
Large dip angle crushing chamber and long crushing surface, giving the equipment a high crushing capacity;
Super heavy-duty frame, large-diameter integral spindle assembly and high-precision cast bearings, giving the equipment high-intensity operation;
By simply replacing the eccentric sleeve, you can change the processing capacity of the equipment to meet different crushing process requirements;
Positive pressure dust seal to prevent dust from entering the eccentric device and drive device, extending the life of the bearing;
With external clearance adjustment device and hydraulic beam separator, easy to operate and maintain.
2.New intelligent automatic control system
Automated fault diagnosis, quickly determine the cause of the downtime, reduce maintenance downtime;
Lubrication system automatically lubricates heating, cooling and circulation according to production conditions;
Automatic spindle position control system to compensate for liner wear and control product size;
The automated control system can record equipment production information, provides real-time operational status and 24-hour operational trend charts, improves overall equipment control, streamlines operational processes, increases operating rates, and reduces maintenance and energy costs.
3.31 years of sincere service
We have been dedicated to the service life chain throughout consulting, design, equipment production, installation and commissioning, parts supply and production operations. Thousands of skilled and experienced engineers can provide clear solutions within 2 hours, rush to the customer site within 24 hours and complete product failure within 36 hours.