NEWS
Company News
Industry News
Exhibition
Faq
Kefid aluminum ore dressing and crushing process
Aluminum ore is a metal ore with high hardness and a difference in ore grade. Its processing is different with other non-metallic ores in process design and equipment selection.
Kefid is one of the production and export bases for crushing and grinding equipment in Asia. It produces jaw crusher,cone crusher (hydraulic and spring),impact crusher,sand making machine, ball mill, vertical mill and raymond mill.According to the characteristics of aluminum ore, Kefid designed a complete set of processing solutions for customers.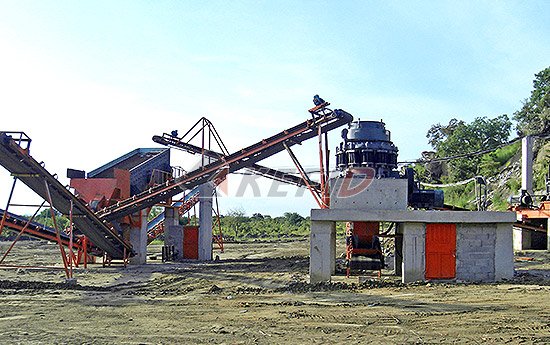 The processing of aluminum ore mainly includes three processes: crushing, grinding and beneficiation.
In the process of crushing, the three-stage closed-circuit crushing is a modern high-hardness aluminum ore crushing, which can complete the ore crushing and partial dissociation work, thereby improving the subsequent grinding efficiency; during the grinding process, the second-stage closed grinding process can make the aluminum ore grinding more fully; in the beneficiation process, the more successful new processes are mainly the mixed flotation process.
The first stage: crushing and screening - three-stage closed-circuit crushing
The bulk aluminum ore is transported uniformly by the vibrating feeder into the jaw crusher or the mobile jaw crusher for coarse crushing; the coarsely crushed aluminum ore is sieved by the vibrating screen and then transported by belt conveyor to the single-cylinder hydraulic cone crusher for medium crushing; the crushed aluminum ore material is sent to the multi-cylinder hydraulic cone crusher for fine crushing; the fineness of the discharge material can be adjusted to reach 13mm or less.
The second stage: grinding - two-stage closed grinding
The crushed small piece of aluminum ore is evenly sent to the ball mill for grinding and is sieved by a spiral classifier.The unqualified powder is fed to the ball mill for re-grinding;
The third stage: beneficiation - new flotation process
The aluminum powder that meets the requirements is sent to the flotation machine for mixed flotation, and the final aluminum powder is sent to the dryer to finally obtain the fine powder.