NEWS
Company News
Industry News
Exhibition
Faq
Kefid high quality aggregate stone crushing equipment in high-speed rail construction field
The construction of high-speed railway places high requirements on the grain shape and gradation of concrete aggregate, especially the needle-like content in the basalt (diabase) crushed stone. The VSI6X series vertical shaft impact crusher launched by Kefid is used for new crushing and shaping; VSI6X vertical shaft impact crusher is the best choice for producing high-performance concrete (above C40) aggregate (crushed stone) and stone. After the shaping of the machine, the aggregate(stone) needle shape is not higher than 5%, which can meet the technical requirements for the production of the high-performance concrete (C40 ~ C80) aggregates for the above-mentioned special industries. The gravel aggregate production system composed of VSI6X vertical shaft impact crusher has a production capacity of 30-500 tons/hour. The particle size and gradation of the finished product are determined according to user needs, usually 0~40mm. The stone grading is reasonable, the grain shape is good, and the needle-like particle content can be controlled within 5%. It is successfully used in Zhengxi (Zhengzhou-Xi'an), Wuguang (Wuhan-Guangzhou), Harbin (Harbin-Dalian), Beijing-Shanghai high-speed railway passenger dedicated line.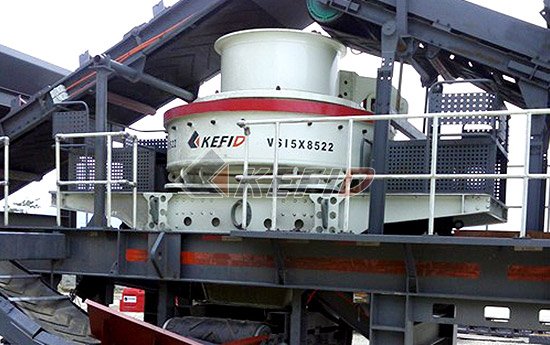 The supply of sand and gravel for the construction of high-speed railways can be selected from the complete set of Kefid crushing production line, including the C6X series jaw crusher, HPT cone crusher, VSI6X series sand making machine, YZS vibrating screen and other relevant supporting equipment. A whole set of coarse, medium and fine crushing equipment for crushing, shaping and screening of sand and stone can achieve about 5000 cubic meters of standard sand and stone materials per day.
Kefid is a professional manufacturer that produces stone crushing and screening, artificial sand making and industrial milling equipment. We have been committed to the research and development, manufacturing, engineering design and installation of complete production lines for high-quality crushed sand making equipment. Adhering to the scientific business philosophy, with sophisticated processing equipment, mature design and perfect after-sales concept to serve global users, Kefid has become a smart choice in domestic and foreign construction, mining, metallurgical industry and highways, high-speed railways, hydropower stations, airport runways, high-rise buildings, municipalities,bridges and mineral grinding field.