NEWS
Company News
Industry News
Exhibition
Faq
Kefid's new product-VSI6S1263 vertical shaft impact crusher
After a long period of research, development and continuous testing, recently, Kefid VSI6S vertical shaft impact crusher formally launched.
Kefid VSI6S vertical shaft impact crusher (sand making machine) is a efficient sand crushing equipment which developed on the basis of VSI series sand making machine with independent intellectual property rights and a number of national patents. Compared with VSI series sand making machine, VSI6S sand making machine is divided into two kinds:normal discharge and shaping material to produce high-quality sand and gravel aggregate to meet the highway, railway, hydropower stations, airports and other projects of construction requirements. The feed opening and capacity has greatly improved.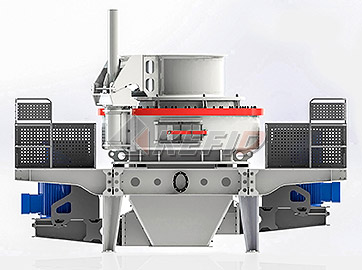 The machine is still using the principle of "rock on rock" and "rock on iron" .It reduce the wear rate of wear parts, greatly extended service life and avoid the frequent replacement of the parts. It is equipped with a professional dust removal equipment which fully meet the national environmental standards.
The advantages of Kefid VSI6S sand making machine are as follows:
1. The new design, efficient crushing
Impeller structure adopt new four openings design to improve the throughput, crushing efficiency increased about 20% compared with three openings impeller.
2. The upgrading process
"rock on rock" mode to reduce the use of wear-resistant species, reduce production costs
3. unique design, quality assurance
Equipment transmission parts adopt special sealed cartridge bearing structure to prevents leakage, won several national patents.
4. Run efficient, easy to maintain
New lifting device to facilitate customer maintenance of the equipment.