NEWS
Company News
Industry News
Exhibition
Faq
Diabase jaw crusher professionally crush high hardness stone
Diabase is crystallized by deep basaltic magma intrusion to shallow pan, it can be used for building stone or process stone, is cast stone materials. As a popular building material,diabase attracted a large number of stone quarries and manufacturers concerned. Such stone is very hard, relatively easy to reduce the life of the crusher, the frequent replacement of equipment will greatly increase the cost of capital.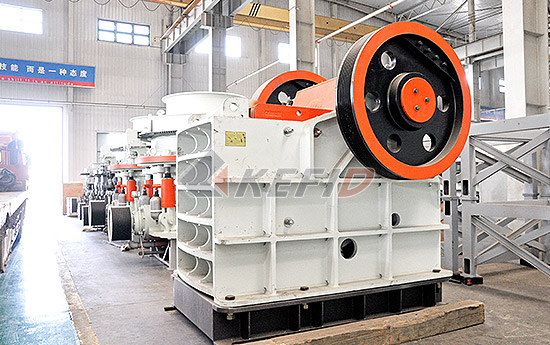 In response to this phenomenon, Kefid made in-depth research in recent years. The equipment configuration for diabase production line will be "jaw crusher + cone crusher + impact crusher" three-stage crushing production. As primary crushing,
jaw crusher
will withstand enormous pressure. If primary crushing equipment lack wear, it will severely affect the capacity and productivity of the entire production line. To get rid of this production crisis, we must improve the performance of primary
jaw crusher
.
As the world's best crusher manufacturer,Kefid has abundant experience in diabase crushing. High energy HJ series jaw crusher is modern high performance crusher which developed by Kefid on the basis of introducing and absorbing foreign advanced technology, according to the actual needs of the customer site, based on high input, high-output design and development, set low energy consumption, high capacity in one. The series of crushing equipment used in the construction of gravel crushing, sand production process, especially diabase, basalt, granite and other hard materials. Compared to traditional jaw crusher,it has high production efficiency and low running costs.