NEWS
Company News
Industry News
Exhibition
Faq
Kefid granite crushing equipment configuration
Granite is a kind of magmatic rock that is formed by magma condensation below the surface and belongs to deep intrusive rocks.Because of its high hardness, wear resistance and durable, granite is the ideal material for the production of high-speed road materials and construction of rubble.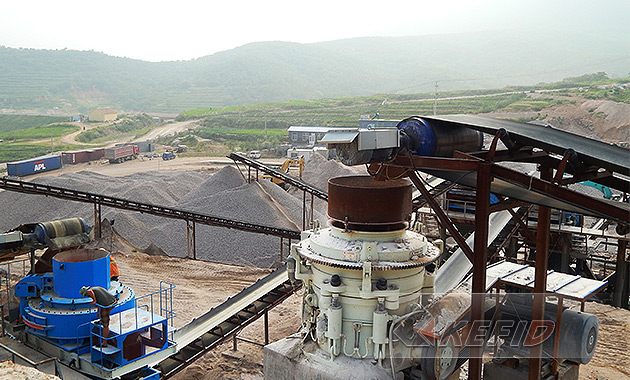 However, it is precisely because of the high hardness of granite that results in higher requirements for crusher performance. In general, a complete granite gravel production line is mainly composed of vibrating feeder → jaw crusher → cone crusher → sand making machine → vibrating screen and other equipment, which can be divided into three processing stages:
The first stage: primary crushing
The bulk materials of granite are uniformly fed to the feeder by a vibrating feeder and transported to a jaw crusher for coarse crushing(usually 10-30 cm after coarse crushing). The crushed material is sieved by a vibrating screen and transported by the belt to the cone crusher for fine crushing.
The second stage: secondary crushing
After fine crushing, the granite will be screened by a circular vibrating screen, and the larger granular material was returned to the cone crushing for re-crushing. We can adjust 1-2,1,3,2-4,3-6 and other specifications of stone.
The third stage: sand making
The crushed granite is sent to the sand making machine for further crushing and shaping, which can produce 0-5mm mechanical sand and gravel shaping material. If it needs cleaning, it can be sent to the sand washer for cleaning.
The specific equipment configuration needs to be determined according to the factors such as the size of the input and output material, the capacity, the area of the factory, etc. You can submit the specific production requirements to our 24hour online customer service.